Menu Planning Monday
April 5, 2010
10:11 am
Uncategorized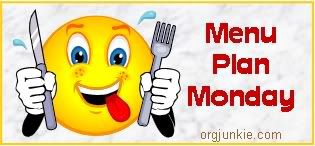 We have been meal planners for a while. I don't tend to do well at 4:00 when I'm suddenly faced with deciding what to have for dinner. What's worse is we never seem to have the ingredients to make something interesting. So, we turned to meal planning to help. We end up eating better and shopping better. Since we know a few folks doing the gluten free thing as well, we thought we'd share what we're eating this week. We're also sharing with the nice folks over at OrgJunkie for their Menu Planning Monday.
Monday – Shepherd's Pie
Tuesday – Slow Cooker Orange Chicken and Rice
Wednesday – Pork Fancy Pants (Herb roasted pork and veggies)
Thursday – Chicken Tikka Masala (from a jar) and Rice
Friday – Pulled Pork and Baked Potatoes
Saturday – Peppered Beef Filet, Rosti Potatoes, Broccoli
Sunday – Cabbage Rolls
We didn't have links for a few of those recipes but if anyone would like me to post them, drop me a comment.